Specializing in Agricultural Equipment



D&M Tools Limited is an established farm equipment dealership that was created in 1980 by Denis Gallant. Denis has been in the farming industry for several years and he has acquired many loyal friends and customers all across North America. D&M Tools is located in magnificent Prince Edward Island, which is located in Atlantic Canada. D&M Tools has a reputation for providing exceptional customer service, personal assistance and prompt delivery all over North America.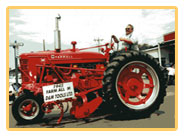 D&M Tools invites you to browse through our website to view our inventory of used equipment. For your convenience, all items are categorized as Specials, Tractors, Ploughs & Combines, Vehicles, Potato Equipment, Used Parts and Other Equipment. Our listing is updated frequently − we encourage you to check our website often. Additional items are available at our premises in Bloomfield. If you do not see what you are looking for on our website, please inquire and we will let you know if we have it.

D&M Tools hosts Auction Sales on a regular basis. Visit our Auction Sale page to find out more about our auction and to view a full list of equipment that is for sale.

Our mission is to provide outstanding customer satisfaction. Need something that you do not see on our website? Let us know and we will try to find it for you! We are acclaimed for finding almost anything that our customers require! We welcome you to contact us with all your agricultural equipment inquiries.

We look forward to providing you with your equipment needs!
Denis Gallant



No Auction Sale at this time.

Check this page for information about the next D&M Tools Auction Sale

.